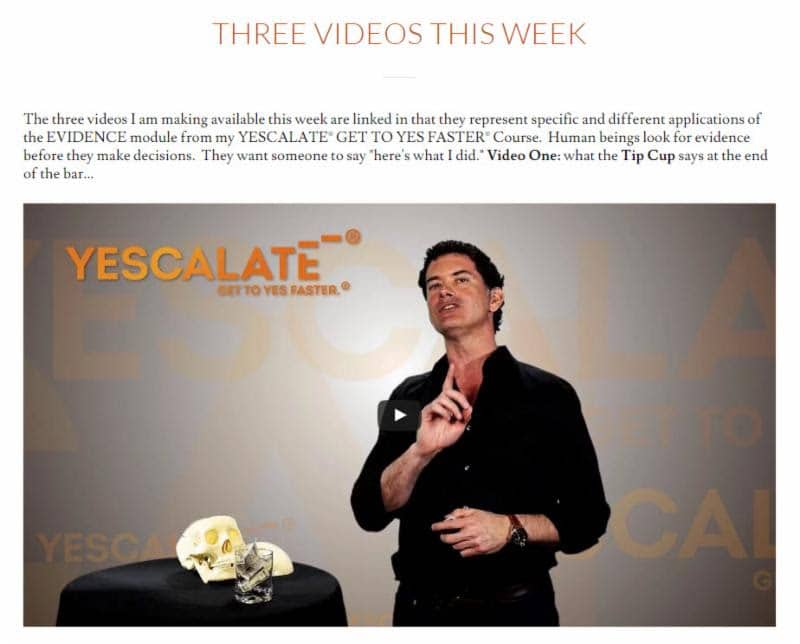 People want Proof.
What is an Oscar award this evening worth to an actor? (MILLIONS.)
(What is JUST BEING NOMINATED worth to them? Some studies say an actor's salary can double and a movie's box office take can as well.)
Why? Because more people will go see the movie AFTER it receives the nod from the Academy.
A third-party endorsement is a worth a lot because it eliminates our perceived risk.
"If THEY say it is good it MUST be."
What are some of the most powerful third-party endorsements that you can get?  
Start by getting them from your current customers.
(Client testimonials. Client testimonials. Client testimonials.)
The three videos
I am making available this week are linked in that they represent specific and different applications of the EVIDENCE module from my YESCALATE® GET TO YES FASTER® Course.
Human beings look for evidence before they make decisions. 
They want someone to say their decision is safe.
Video One: what the Tip Cup says at the end of the bar…
Video Two: what the McDonald's sign says…
Video Three: what your Client Testimonial Videos say…  
People before you did this.
You know what to expect because you see evidence of what OTHERS say they received.
Before me…. what was the experience?
Here are a few questions to consider with your Team this week:
…what does your Tip Cup look like? 
…what is YOUR version of "Billions and Billions Served"?
…and what are your Client Testimonials saying about you?
Wouldn't it be it be great to have your Best Clients on video?
You might want to consider asking them…
What was the problem we solved for you?
Why did you choose us, what was different about us?
How would you describe us to someone who's never heard of us?
That's it.
Get started on it this week.
Make a list of the clients who love you. 
Make a list of the referral sources who love you. 
Make a list of the suppliers who love you. 
Ask them to say a few words about you. 
On Video. 
Get it done.
You might want to put those videos on your website.
You might want to let others hear how these people think and feel about you.
Just a thought.
Because we see safety in numbers. 
—————-
Your weekly application questions
What is our version of "Billions and Billions Served"?

How can create our own "Tip Cup"?

Who are our best "Client Testimonials" to film?
——————
Dean Minuto, (Vistage Speaker of the Year 2014/2015)