STARTING DIFFERENT (Webcasts)
The Brain Science of ENGAGEMENT.
VIDEO: Personal, Business and Team Engagement
"Superpowers and Shortcuts" Brain Science of Success.
Author, Keynote Speaker & CEO Bill Wooditch interviews Dean Minuto
"ON TRANSITIONS"
Starting Different™ Dean Minuto interviews General Jeffrey Foley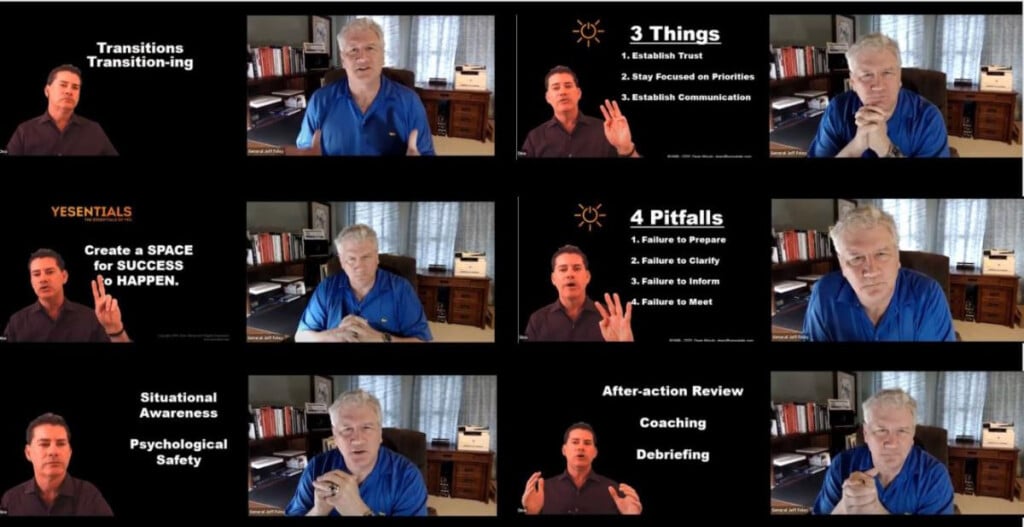 3 Little BIG Things: Using Brain Science on LinkedIn
Starting Different™ Dean Minuto interviews Colleen McKenna
Push a Button and CONNECT WITH YOUR PURPOSE
Starting Different™ Dean Minuto interviews John Dame
PUSH A BUTTON TO MAKE CHANGE HAPPEN
Starting Different™ Dean Minuto interviews Kirby Martzall
PUSH A BUTTON, GET TO YES FASTER®
Brain MAGNETS™ with Dean Minuto
Starting Different™ PUSH A BUTTON to TELL YOUR STORY.
A dozen Vistage Speakers and Chairs already do
Starting Different:  Dean interviews Mark Lange
Starting Different:  Dean interviews Steven Robertson
Starting Different:  Dean interviews Bill Wooditch
Starting Different:  Dean interviews Rob 'Cujo' Teschner
Starting Different:  Dean interviews Michael Allosso
Starting Different:  Dean interviews Dr. Bill Crawford
"Starting Different in Disruption"
5 Essential Brain Shortcuts in Disruptive Times
Our work and personal environments have changed over the past couple of weeks.  Friends around the world have been asking Dean Minuto (a Vistage Speaker of the Year, an expert in linking brain science to optimize customer experience with a passion for neurobiology and psychology) – to deliver a 30 minute webcast for their Teams to connect brain science to their work-from-home circumstances and teach us how to make a difference in these days of disruption.
We invite you to take a break and spend 30 minutes with a little bit of real-time skill building that you can immediately apply. Let's take this opportunity to find tools for success in the circumstances we find ourselves in. You will likely find that Dean's tools and techniques work at home just as well as in your business interactions.
Dean has spent his professional life helping others understand the art of persuasion. He believes that at its heart, persuasion is communication, and too many of our misunderstandings come from miscommunication. Whether you are trying to persuade a recalcitrant client to make a buy or hoping to convince your children to work together cleaning up the backyard, the best way to communicate is through understanding. Dean wants to help get you there.

With 25 years of experience as a leading expert in sales, Dean has personally coached more than 9,000 CEOs, tens of thousands of other executives, and countless employees. He is a proud member of the world's leading CEO membership organization, Vistage International. In June 2015, Dean was honored and humbled to be named Vistage's 2015 Speaker of the Year. A natural stage presence and a commanding, friendly speaker, Dean doesn't just rely on charisma to help people learn to take control of persuasion. He has a lifetime of sales experience augmented by a deep passion for multi-disciplinary research. He loves to weave neurobiology, sales techniques, marketing, history, psychology, and other sciences together in order to create a full tapestry of human behavior. It is only in understanding this that you can learn how to get to yes.
As a graduate of LeMoyne College with degrees in Marketing, Finance, and Philosophy, Dean went on to achieve professional certification in behavioral psychology and neuromarketing. He understands persuasion from all angles, and believes that success isn't about a commission: it's about making a difference. With his Yescalate® presentations, his book The One-Pages Sales Coach, his MAGNETS™, and his videos, Dean is bringing that learning, that passion, and that humanity to organizations around the country.