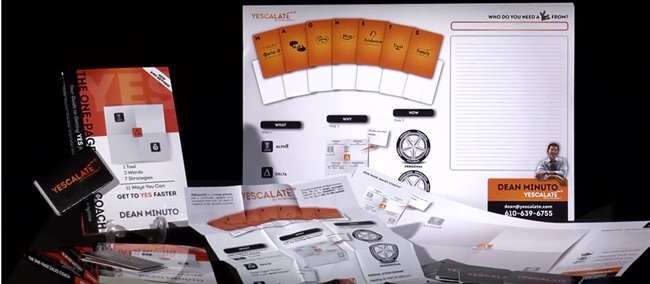 One tool. Three words. Seven strategies. Eleven ways to GET TO YES FASTER®. Do you want to have Dean Minuto's award-winning program available on your bookshelf, in your backpack, in your hands? Now you can: the new and revised edition of Dean's amazing book, The One-Page Sales Coach, is ready for you to order. It's a powerful, must-read work for anyone who needs tools to influence people at work and in life. Even if you aren't in sales, The One-Page Sales Coach is relevant and important to all aspects of life.
The One-Page Sales Coach presents you with effective and powerful methods that will help you get that yes faster than ever. Each lesson contains a Personal Action Summary section so that you can implement what you learn. This book is a precisely distilled look at the best practices and key ideas from Dean Minuto's twenty years of sales coaching. It's a short, easy, understandable read that can change your life. The One-Page Sales Coach has six lessons that you can read in ninety minutes and apply immediately.
Purchase A Single Book On Amazon
Ordering 54 or more copies for your business, organization, or institution gets you a 50% discount on books that can help everyone in your team. Transform your culture by getting to yes with the help of Dean Minuto's concise, powerful, and ground-breaking The One-Page Sales Coach. Order today!