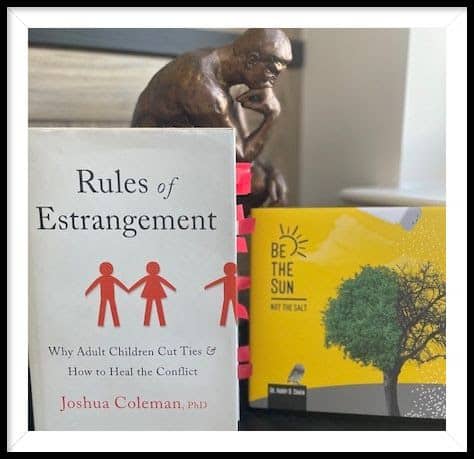 Estrangement and the Holidays
The Hidden Topics of Inclusion.
Percent of people 15 – 46 yrs. old reporting "estrangement from their parents"–
27.74% Female
24.33% Male
Hold those numbers in your mind for a moment.
1 out of 4 people.
*Data from a 2018 Study before three years of "lockdown" magnified mental health issues and before the rise of "performative" social media streams designed to alienate and enrage.
Now add to that mix the Holidays.
It feels to me like for the last several years,
"Everybody's walking around with a hammer looking for a nail to hit."
Whether you're swinging the hammer or you're the nail—many of us lack the words to describe our feelings and the tools to pursue better together.
Two useful additions to your toolkit this year might be:
Dr Harry Cohen's
BE THE SUN, NOT THE SALT https://a.co/d/04NgDjd
Dr Joshua Coleman's
RULES OF ESTRANGEMENT https://a.co/d/iJgGdRX
Cohen's BE THE SUN is 60 pages, the audio version is 47 minutes long (hit play at Chapter 5). Set it at 1.2x and it takes Dr Harry just 39 minutes to read the book to you. I've listened to it every day since August 16, as I write this on Sunday November 5 that's almost three months. That's how useful I have found the book. A brain reset and reminder of the importance of "being the sun on people's leaves and not the salt on their roots".
Harry's first words are:
"Today is a Good Day to Do Good. Do all the Good You Can."
That is a message worth hearing and worth sharing, a message that the world needs now.
If you're in that group of households right now experiencing estrangement, or you know someone that is, Coleman's book gives perspective and tools: "You are not alone." The book will resonate from the first five words and the audio version has a 29-minute section (Chapter 13) on how to heal.
This year I'm sharing Dr Harry's book BE THE SUN with everyone I love, and that includes the last 80 Vistage CEO Members and Chairs that I have met.
My Sicilian grandmother said "Everybody is carrying a bag of rocks. Some are heavier than others. Might be filled with sadness, hurt, regret. But everyone is carrying something."
That's especially true for the last three years and good to remember for the next two months, isn't it?
We can help lighten that load—for ourselves and others.
With your success in mind,
Dino
Dean Minuto
Vistage Speaker of the Year 2014/15
Vistage Top Performer Award for 2021 and 2022
https://onlinelibrary.wiley.com/doi/10.1111/jomf.12898
*Total sample size of 8,585 (ages 15–46 in 2018 study), analytic sample of 8,495 mother–child relationships and 8,119 father–child relationships.
©2023 Dean Minuto